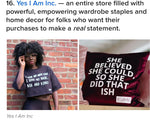 We are so happy to see YES I AM featured among some well known Black-Owned Brands in BuzzFeeds latest article: 31 Black-Owned Businesses that will take you Valentine's Day Gift to the Next Level.
Thanks for the ❤ @buzzfeedshopping. Much appreciated✊🏾

Be sure to check out our "For the Culture" collection on and check out the other dope brands mentioned in this article.