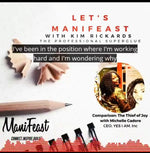 I am so honored to be a guest on my fellow entrepreneur and dear friends of Manifeast's  (IG: @_manifeast) first podcast episode. Kim Rickard's (IG: @kimsagem)  and I had a wonderful discussion about appreciating your journey and not letting comparison steal your joy. Be sure to check it out at any of the platforms below.
https://www.radio.com/podcasts/lets-manifeast-37392/comparisons-the-thief-of-joy-with-michelle-cadore-246952525

Follow Kim's entrepreneur journey here and listen to more inspiring stories from other dope entrepreneurs on her podcast: ://linktr.ee/Manifeast
#Repost @kimsagem 
---
While some are awaiting a stimulus check, others are listening to the first episode of #letsmanifeast 🥳🥳- Launching a podcast has been a goal of mine for some time. I've been blessed to have encountered pretty amazing people in and out of the office, and being able to share their empowering stories with the masses in hopes that someone is inspired or learns something new, makes my heart full! Check out my conversation with Michelle Cadore (@yesiam_michellec ) on comparisons stealing your joy on Spotify, Apple Podcast, GooglePlay, Stitcher or wherever you consume podcasts today! 
Before you go, don't forget to leave a review, share this podcast and follow ManiFeast on Instagram, Twitter, Pinterest, and Facebook - https://linktr.ee/Manifeast