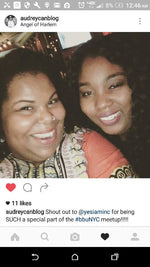 But it is worth it!
Business 101: Always be ready!
Yesterday was awesome and it did not come without a slight "hot mess" entrepreneur moment, but GOD was with me the entire time!
Lesson 1: Put Yourself Out There:
Last Thursday I decided that I should reach out to bloggers to do PR for my brand YESIAMINC. I tried my first ask, but honestly I didn't know what I was doing. Lessons in business: Be ready to pitch and know what you need. Coincidentally, I was invited by @Victoria to attend the Black Blogger United NYC event as a guest on Wednesday evening. I took a chance and asked the organizer if I can be a sponsor by offering one of my tees as a raffle prize.
Lesson 2: Have Promotional Materials Ready!
The organizer, Audrey of  Audreycan.com
, graciously accepted my offer and working with her was such a pleasure! She mentioned items that would be enticing to the guest like flyers, discount codes, etc. for their gift bags. I said yes, knowing I knew nothing about making any flyers, but I was ready to learn!

Lesson 3: Have Ready to Wear Products Ready (and to sell)
I also figured I should wear one of my shirts to promote the brand so I placed a fast order for the #Napturalista tee. Another lesson, have all samples on hand. Well, fast forward to yesterday, morning of the event, right before driving off to work. I did not have a shirt of my own to wear and promote, did not figure out flyers, and still thought I could possibly make this happen.
Lesson 4: Persistence is Key!
The shirt I ordered was scheduled for delivery that morning so best believe I chased down the USPS truck driver, who stopped and checked but didn't have it. He told me to look for my mailman. I drove around and spotted a mail woman near our local facility and she put me on to my mailman Maurice's exact route. I drove back to my area, up and down, looking for Maurice and found him on the next block from mine. Honked him down, and said "MO! I've been looking for you." Lol, you know he was shocked. I told him the deal and he told me he left my package but told me to go to the facility and ask for his Manager Dwayne.
Lesson 5: Be Sweet, Honest and Show Gratitude!
Well, I got there and batted my eyes and told Dwayne my story. I have this Blogger event tonight, I am a sponsor, and I am trying to promote my brand and my shirt is somewhere in your bucket. Dwayne, surprised that I knew his name, decided to look and he came back 7 minutes later and said, " Whew!" I said, "God Bless you Dwayne! When I make it I am going to shout you out!" Dwayne said, "You better!" LOL
Lesson 6: If You Don't Know, Ask!
Fast forward to an hour before the event and I am in the Kinkos trying to learn Photoshop and design a flyer while Vicki texts me instructions. Bless her and the young men who work there and came to my rescue with 10 clicks to get my flyer in order. Not only did they help me get it together but the price I was originally quoted was almost cut in half!! I am going to bring them a treat on lunch.
Takeaway:
I made it to the event with flyers, my shirt, my pitch (which I am still perfecting), put on my game face, handed out business cards and I met awesome Bloggers and entrepreneurs, some of whom recognized my brand! These women (and some men) are so ambitious and just simply amazing! I really couldn't believe how quickly it all happened and how real it was but I spoke it into existence and....
Bonus Lesson: I keep a tribe that keeps me on my toes. Thank you!
I can tell you I felt defeat a few times yesterday and I said " I quit" three times, but I kept going though with hands on my back.. I pushed through, it happened, it was awesome, Audrey and everyone were amazing. BUT GOD!