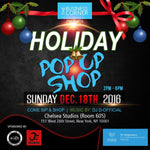 So, aside from building my brand YES I AM INC and working full-time, I also manage a Facebook Group called The Business Corner, which is designed to connect entrepreneurs to resources and people that will help grow their own brands. It's a co-working session at your fingertips, but occasionally we do meet up. 
To show support for our local NYC small businesses, The Business Corner and its partners, YES I AM INC and FrantzyFace Clothign, hosted its first Holiday Pop Up Shop  on Sunday December 18th. We had 12 vendors offering products in fashion, art and lifestyle, beauty, jewelry, health and desserts. I'm proud of our curated collection of vendors, who were awesome. Great networking opportunities were had and all were successful. Special thank you to everyone who came out, participated and helped promote. We appreciate you! 
Stay tuned for more! 
Vendors on IG:
@YESIAMINC
@Frantzyfaceclothing
@Ccelenajewelry
@Theintimategrind
@my_sweetcraves
@ArtbyMalikRashad
@TrootsBeauty
@Shopnxn
@FASHIONABLYYOURSNYC
@BKSPREADLOVE
@TUESDAYATTHREE
Tossa Jewlery
Check them out here:https://www.facebook.com/ChelleKCad/videos/10155155873560715/