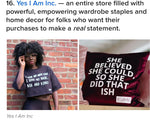 We are so happy to see YES I AM featured among some well known Black-Owned Brands in BuzzFeed's latest article.
---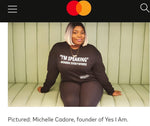 Cadore also adopted a new daily survival mantra: "Pivot, pivot, pivot." That meant increasing her online presence. She revamped her website, adding curbside pickup, and developing partnerships with online retailers. Then she turned to Mastercard's Small Business Digital Readiness Diagnostic, a free online program that helps entrepreneurs determine what their digital business model needs to be effective and then provides them with the necessary tools and services.
---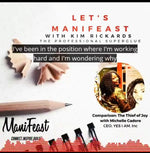 In this episode, Michelle Cadore, Owner of YES I AM Clothing and DA SPOT NYC and Kim Rickards, Owner of Manifeast, discuss the reasons it's important to stay in your lane, avoid comparing yourself to others, and a few ways to stop comparison from stealing your joy.